Bushmaster w/ Red Dot 3x Magnifier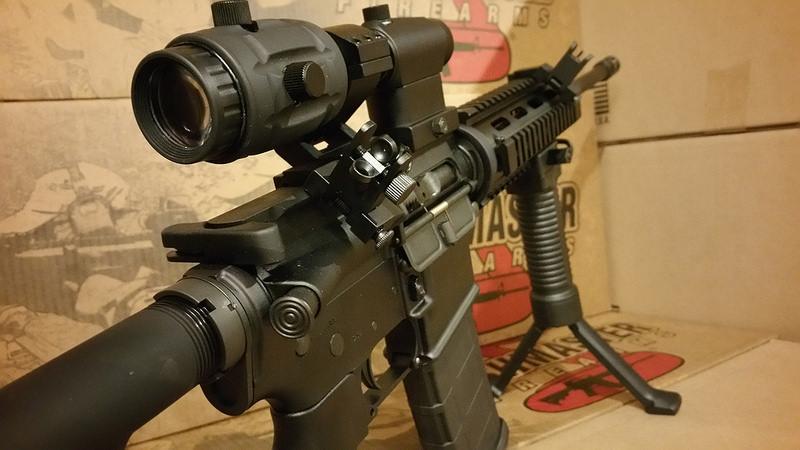 Bushmaster w/ Red Dot 3x Magnifier Qaud Rail 45 Degree Sights XM15 QRC
with Mini Red Dot Sight, 3x Vector Optics Magnifier, 45 Degree Iron Sights, Quad Rail, and Fore Grip Bi Pod
New unfired from the factory Bushmaster XM-15 QRC. This rifle is chambered in 5.56 Nato or .223 Remington. Barrel is the highly desired 16" Superlight 4150 with 1 in 8 twist and FNC treatment for maximum durability and longevity. Bushmaster's XM-15 QRC (Quick Response Carbine) is ready to hit the range out of the box. The 16" Superlight contour barrel has an A2 Birdcage-type flash hider and is Melonite treated for longevity and ease of cleaning. Rifle comes with (1) Mini Red Dot Sight, (1) Vector Optics 3x Magnifier with Flip to Side Mount, (1) 30 round Pmag, Quad Rail, 45 degree flip up sites, and Bi Pod fore grip. The Mini Red Dot and the Vector Optics 3x magnifier is a nice optic combination that pairs nicely with this Bushmaster. Rifle is new unfired from Bushmaster.
Payment can be made with Credit Card. NO CREDIT CARD FEES. We charge $29.95 to ship this firearm UPS to the lower 48. Shipping charges are extra to Alaska or Hawaii.
This listing is for (1) Bushmaster XM-15 QRC with quad rail, (1) Mini Red Dot Sight, (1) Vector Optics 3x Magnifier, (1) FTS Mount, (1) Set 45 Degree Flip up Sights, (1) Bi Pod Fore Grip, and (1) 30 Round magazine.
Bushmaster XM-15 QRC Rifle Features
AR-15 style rifle
Quick Response Carbine (QRC)
16" Superlight Contour Chrome-Moly barrel 1 in 8" twist, Melonite Coated
Quick Detach Mini Red-Dot Optic
A2 Birdcage-type flash hider
Six Position Collapsible Stock
Chambered in .223 / 5.56
Overall Length: 35" fully extended
Magpul 30rd PMag
Mini Red Dot Sight Features:
Aircraft grade aluminum to withstand constant recoil
Rated for use with center fire rifles up to .223 (5.56mm)
Fog proof and shock-resistant housing
Unlimited eye relief for quick target acquisition
Color: Black
Magnification: 1x
Vector Optics 3x Magnifier Features:
Magnification: 3x
Objective Lens Diameter: 26mm
Exit Pupil: 7.0 mm
Length: 108mm (4.2 inches)
Height: 36mm (1.4 inch from base to center of ring)
Eye Relief: 60mm (2.4 inch)
Field of view at 100 yards: 49 Feet
Optics Coating: Fully Multi Coated
45 Degree Flip Sight Features
Machined from light weight and durable aircraft aluminum
Low profile sights with 45 degree orientation, no interference with primary optics
Flip-up design with spring load push button, allowing for quick deployment
Non-rust black anodized finish
Include Front and Rear Sights
Dimensions: 55mm x 35mm (height) x 25mm (front) 55mm x 40mm (height) x 25mm (rear)
Weight: 1.7 oz (front) 1.9 oz (rear)
Buy confidently as we value your positive feedback.
Item Info
| | |
| --- | --- |
| Item | Available In Store |
| UPC | 604206910462RD3X |
| Brand | Bushmaster Firearms |
| Model | XM-15 QRC W/ RED DOT 3X MAG |
| Mfg No | QRC RED DOT 3X MAG |
| Caliber | 5.56mm NATO |